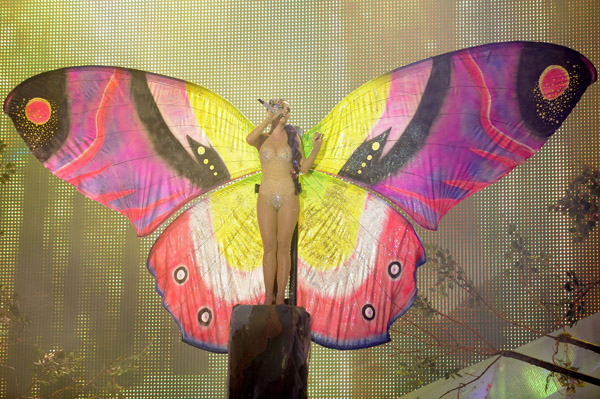 First, Jennifer Lopez did her best Toxic - Era Britney

in a sparkly catsuit while performing in Panama last week.
Then, Katty Perry brought the sheer look up north on Sunday night for the MuchMusic Video Awards 2012, where the suit's main purpose was to help her channel a butterfly.
The racy look was Perry's third of the night, after she wore a black gladiator - style gown during the red carpet arrivals, a demure pants ensemble during the show and then a glittery butterfly outfit (after being reborn from a chrysalis) to perform her song "Wide Awake." But afterwards, Katy ditched the butterfly wings part of the costume to receive a trophy for Best International Artist. And that's when the trouble began.
It seems sans wings, Katy's sparkly see-through suit was a little too sheer, as we can tell from her pained facial expressions when she bounded onstage. Luckily, Perry was able to use her trophy (a long rectangular black box) to shield her more private areas from the camera.
Check out

Britney Spears, Jennifer Lopez, and Katy Perry where there see thru nude body suit....hmmm, whose own do you DIGG the most??